Phone:
Email:
Degrees and Certifications:
Picnic (May18th)

E-Learning Activities for Monday, May 18th!

Theme: Picnic *All activities for today will be found on this page only*

Gross Motor: Have your child imitate insects that they might see outside while on a picnic...

Zoom like a fly

Wiggle like a worm

Hop like a grasshopper

Blink like a firefly

Fly like a butterfly

Scurry like a spider

Buzz like a bumblebee

Crawl like a ladybug

See if you and your child can come up with anymore fun insect movements!
Fine Motor: Get some picnic snack foods and mix them together (pretzels, chips, grapes, pieces of a sandwich, etc...). Have your child sort the items into bowls. (all the pretzels go together, all the sandwich pieces go together, etc..). You may need to put one of each item into separate bowls to start the sorting.
Sensory: Make a sensory walk for your child inside. Use items from around the house such as:
Cardboard lid
Muffin tin (upside down)
Large plastic bag
cake drying rack
Wet dish cloth
a cutting board
ice cube trays (turned upside down)
Of course you need to consider safety first. I also made sure these items were placed on a nonslip surface like carpet or a rug. Wooden floorboards make items slip and so it's just asking for an injury. Be safe!
Social Emotional: Take your lunch outside and have a picnic with your child! Lay down a blanket, set out some plates, and enjoy the day (and your meal) outdoors with your child!
Language: Go on a walk and collect different items outside (rocks, sticks, pine cones, etc...) Bring those items back for a fun little language lesson on numbers, either inside or outside. If outside, draw boxes onto the sidewalk or driveway and put a number in the corner of each box, starting with 1. Talk about what the number 1 means and have them choose an object to put down to represent one. Then move on to 2, then 3, then 4, etc... doing the same thing, talking about the number, showing that number with items they collected, then counting those items using a 1-1 correspondence.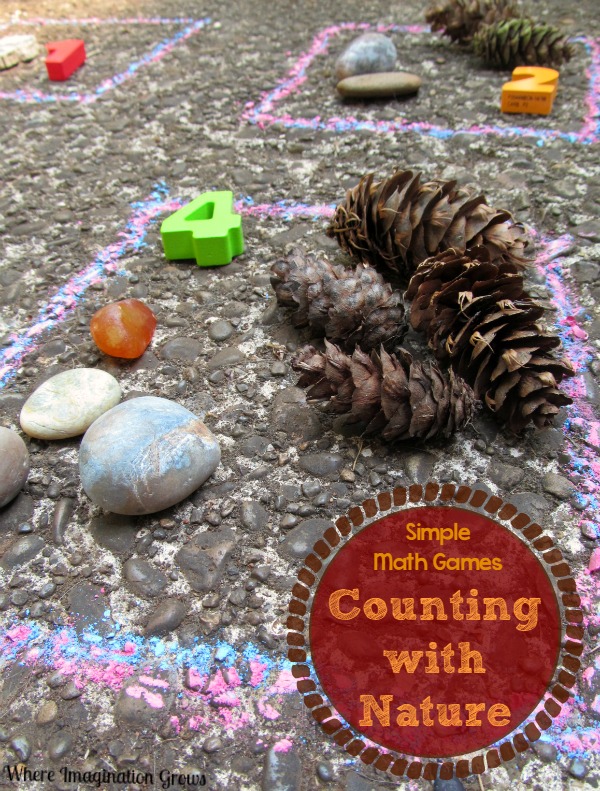 Student Checklist: (only one per week - if you don't have a printer, you could write it down to return in your child's folder)